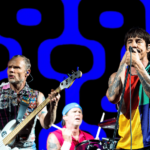 The Red Hot Chili Peppers have announced that they will launch a world tour in 2022, revealing the news in a faux-news video that saw singer Anthony Kiedis, bassist Flea and drummer Chad Smith as characters in the roles of broadcasters, with guitarist John Frusciante playing himself and interviewed about the band's plans. "We're going to do a tour starting in June 2022," shared the guitarist. "The US leg will start in July 2022."
The tour marks Frusciante's return to the lineup following a ten-year absence after the group announced in December 2019 that they had parted ways with Josh Klinghoffer, who joining the Peppers in 2009; he played on 2011's "I'm With You" and 2016's "The Getaway" – both reached No. 2 on the US Billboard 200 and topped the charts in several countries – and appeared on a number of EPs issued in the past decade.
Watch the tour announcement video –  here.
Editorial credit: Christian Bertrand / Shutterstock.com